Review of FatCow Web Hosting Provider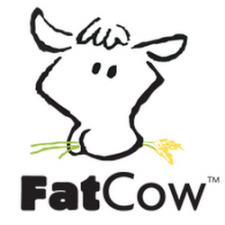 Best Hosting Reviews. Compare FatCow Web Hosting Provider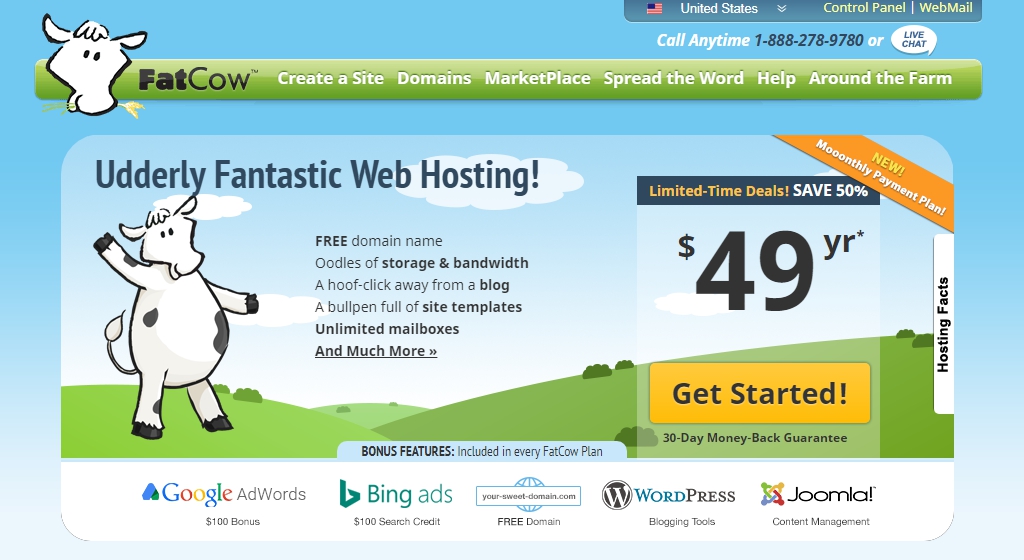 FatCow Web Hosting Review
FatCow is a web hosting provider that is based in Albuquerque, NM in the US and was founded in the year 1998. In the year 2005, this hosting provider was acquired by the Endurance International Group. The Endurance International is known to provide online solutions for more than 2 million customers across the globe via different hosting brands.
FatCow also has a very strong focus on shared hosting plans and low-cost packages. It has also launched some special packages for WordPress users over the last years. It is also known to provide e-commerce services as well as web design for an additional price. Both dedicated and VPS plans are also available, although they are not promoted strongly like shared hosting. This is a sign that FatCow hosting provider has more choices from where one can choose.
The two plans that FatCow offers are the Original FatCow plan and the Minimoo.
back to menu ↑
Pros of Using FatCow Hosting Service
1. Upfront, Honest Pricing – When compared to other hosting companies, the pricing structure of FatCow like a breath of fresh air. There are many web hosts who tend to use some misleading prices so as to attract customers, only to get that one needs to pay for long term plans in order to derive to the price you see them adverts.
2. Free website transfers and domain names – For those individuals who are still own websites that are hosted by other providers, they can be able to get a free transfer from this web hosting provider.
3. They offer a 30 day money back guarantee – FatCow web hosting provider offers a money back guarantee of upto 30 days on all plans that they host. However, it should be noted that they can only refund orders that are through Credit Card.
4. Eco-Friendly Web Host- All their datacenters as well as offices are completely powered by the use of wind energy.
back to menu ↑
FatCow Hosting Features
* Support for php 5 and mysql databases
* Green hosting
* Unlimited disk space
* Unlimited bandwidth
* 24/7 network monitoring
* Unlimited email addresses
* Unlimited domains
* Free cloud storage account
* Offers anytime money back guarantee
back to menu ↑
FatCow Hosting Plans
FatCow web hosting provider has a Linux package as a shared hosting plan. It gives one unlimited space and bandwidth. One can be asked by the company to upgrade if he or she exceeds the normal range of acceptable usage, but commonly if one is not using his account for heavy processing or even sharing of files. This plan entitles individuals to unlimited email accounts and unlimited domains.
There are two plans for WordPress that are on offer, WP Starter and WP Essential which are generally aimed at small businesses and bloggers who have got very little experience on WordPress.
back to menu ↑
Web Hosting Reliability
FatCow doesn't provide uptime level guarantee and hence they don't bother to publish any stats with regards to either their downtime or uptime. However, management tools of the system and the technical experts work 24/7 so as to ensure the datacenter is kept to a maximum uptime.
Also, the datacenter is known to employ a clustered architecture in all servers. Back up is also done on a regular basis so as to minimize the risk of data loss. Fat Cow datacenter is hosted in Boston, USA. This facility also boasts have a half petabyte of storage space that is spread over 800 servers. The datacenter has got two firewalls that offer protection and is under expert surveillance 24/7.
For all customers who are willing to pay for their sites to be backed up on a daily basis, FatCow provides an option for automatic backup.
It consists of a backup and restore tool as well as daily backup routines.
back to menu ↑
Hosting Security
WordPress mainstream use and popularity can be its own nemesis when it comes to security issues. Not that it is more vulnerable or risky than its counterparts, but simply because it is used users who exceed one million meaning that hackers will target individuals by use of this platform due to the fact that most people don't know how to identify security loops or even easy exploits in settings of their websites.
FatCow web hosting company has also enhanced security arrangements such as a firewall and also a daily scan for the purpose of vulnerabilities that is known remove potential threats automatically. One still needs to use themes and plugins with care although an added security layer is needed.
back to menu ↑
cPanel
FatCow is known to employ a custom built control panel simply for the purpose of website administration. Navigation is simply straightforward and is really decent when customizations want to be made.
The hosting company also has a video tutorial that plays a role of educating all the new users to the control panel, and one does not need to pay a customer in order to get access to the help video.
back to menu ↑
FatCow Extras
For the purpose of attracting more and more customers, FatCow is said to give all new users a $100 Yahoo/Bing search marketing credit as well as a $100 Google Adwords credit. One can also earn money with its affiliate programs and also referrals. Customers for shared hosting can also use its website builder, there are some applications that are available in a one-click installer including WordPress, phpBB, Joomla and GBook.
back to menu ↑
Web Hosting Pricing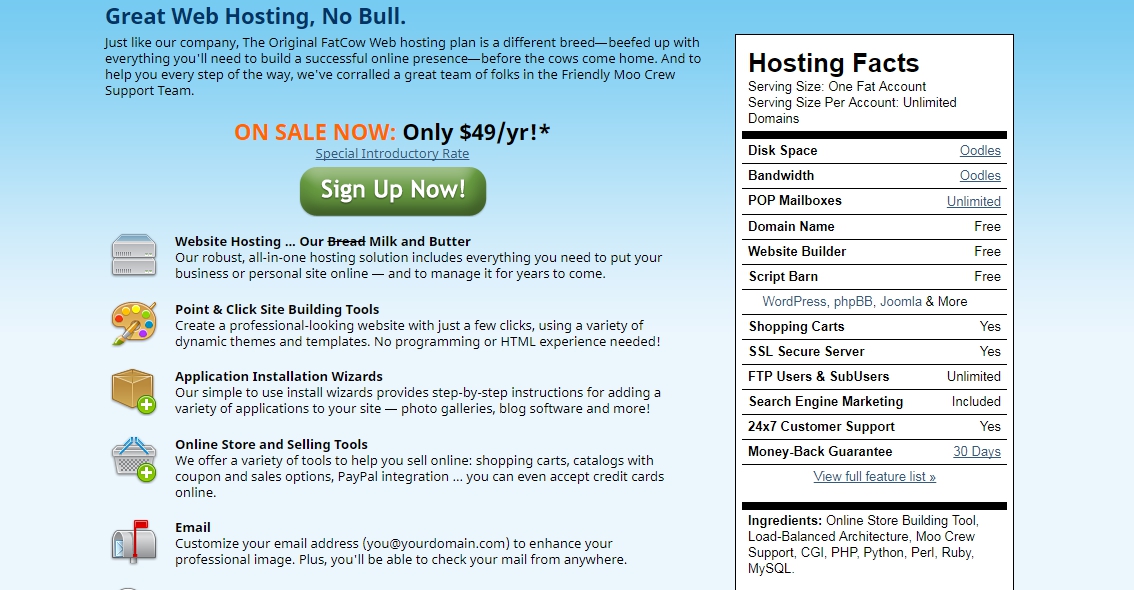 FatCow web hosting provider is known to offer coupons, promotions and also special offers to all customers in their initial term. All these deals can be found on the company's website as well as reputable coupon sites All sign ups come with a 24/7 phone, email support and chat, a free domain registration, and also an anytime money back guarantee.
The plans offered by FatCow are as follows:
* 36 Month Plan which costs at $7.99 month
* 24 Month Plan which costs at $8.99 month
* 12 Month Plan which costs at $9.99 per month
* Special Introductory Rate – only $49 per year
back to menu ↑
Customer Support
Fat Cow facilities for support come in the form of user guides, knowledge base and also tutorials. In addition to this, there is a 24/7 telephone service, email and also live chat support which are all free. Due to the absence of message board or forum makes it very difficult for one to look for information of help from other users. This means that the company wishes one to directly approach the technical support in case a problem arises.
The other thing that clearly brings a question on the transparency of the company is the fact that they never say if their support is maintained in-house or is outsourced. They also have a blog that seems to has dormant participation since the last entry is seen to have been done almost half a year ago.
Its Facebook, Twitter and Google+ accounts are fairly better as means for one to get help form the company. One of the features that is outstanding on this particular company is HeiferCratic Oath that underlines the company's commitment to enhancing a positive support experience to all its users. If they fail to keep up to the oath, an account credit that is worth one month of hosting would be awarded.
back to menu ↑
Review Summary
To sum up the hosting review. On the shared hosting plans for this web hosting provider, it is seen to offer competitive prices as well as a simple plan that does not give restrictions on either disk space or bandwidth. Due to the fact that FatCow offers dedicated and also VPS hosting generally means that one's website will have the chance to grow with your business.
FatCow has widened all its services over the last number of years. It used to offer only shared hosting, although it has added VPS, WordPress and dedicated plans too. Most of these packages are said to be comparable with others that are offered by sister brands.
FatCow web hosting provider aims all its plans to blogger market and small businesses. The hosting company has got very many reviews from customers who have once in a time worked with them. The different customers also provide ratings for some aspects of the company including security issues, features, pricing plans, customer support among many other things. All this will give different customers who are looking to work with the provider an insight to compare with other web host providers.
Great Host for First-Time Users
FatCow hosting customers get unlimited everything: disk space, bandwidth, databases, domains, and email addresses at those domains. Plans include an easy-to-use site builder, online store, and marketing tools.