VyprVPN Review & Comparison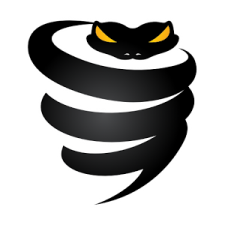 BEST VPN REVIEWS. Compare VyprVPN Virtual Private Network Provider

About VPN
Being a product of Golden Frog and Giga News, VyprVPN was created in 2010 and since has been successfully functioning in the space of the internet security. Its headquarter is located in Switzerland and its branches are spread all over the world. This review will acquaint you with its service and will highlight the main pluses and minuses of becoming VyprVPN subscriber.
back to menu ↑
VyprVPN All Features Table
Technical Features

Protocols:
OpenVPN, PPTP, L2TP/IPsec, Chameleon
PGP Key Available:

No

IPv6 Supported:

No

Kill Switch:

Yes

P2P:

Yes

Own DNS Servers:

Yes

Compatibility:
Windows, Mac, Linux, iOS, Adnroid, Chromebook, Boxee, Synology and DDWRT

Apps and Extensions

Windows:

Yes

Mac OS:

Yes

Android:

Yes

iOS:

Yes

Linux:
No
Steam:
No
Google Chrome:
No
Mozilla Firefox:
No
Other Apps:
CYPHR, Synology NAS, Boxee

Security and Privacy Features

Data Encryption (Max), bit:

256

Data Encryption Type:

160-bit Blowfish, AES-256-CBC, AES-256-SHA256

Handshake Encryption (Max), bit:

2048

Handshake Encryption Type:

RSA-2048

Timestamps Logs:
30 days
IP Logs:
30 days
DNS Leak:

No

SSL, Class:

Class A, Self

Locations, Connections, Bandwidth

Number of Countries:
64
Number of Servers:
712
Connections / Devices:
5
Bandwidth Limits:

No Limits

Support and Customer Care
Immediate support (chat, toll-free):

Yes

24/7 Support Availability:

Yes

Support Languages:
English
Knowledgebase, F.A.Q.:

Yes

Video Tutorials:
No

Pricing, Freebies, Discounts

Monthly price (annual plan)
$ 5.00
Monthly price (1 month plan)
$ 9.95
Free Trial:

Yes, 3 days

Moneyback (days)

No Moneyback

Accepts Bitcoin:

No

Anonymous Payment:

No

Referral Program:
Yes
Discounts and Special Offers:
25% off any annual plan

Other Info

Based in:

Switzerland

Launched in:
2009
Ratings and Trophies
Our visitors rating:
TrustPilot Rating:
2.9 out of 10
PCMag Rating:
Good
Bestvpn.com Rating:
5.0 out of 5
Our Verdict:

Rather Good
back to menu ↑
VyprVPN Plans and Pricing
VyprVPN VPN provider now offers 2 pricing plans. In February 2017 they removed 3-plans pricing system (VyprVPN Basic, VyprVPN Pro, and VyprVPN Premier) and introduced 2 new Pricing Plans. They are:
VyprVPN – This plan resembles the old Pro plan and will offer 3 concurrent connections but at a cheaper price. VyprVPN will cost $9.95/month or $60 per year. The old price points for the Pro service was $14.99/month or $100 per year.
VyprVPN Premium – This plan resembles the old Premier plan and will offer 5 concurrent connections but again at a cheaper price. VyprVPN Premium will cost $12.95/month or $80 per year. The old price points for the Premier service was $19.99/month or $120 per year.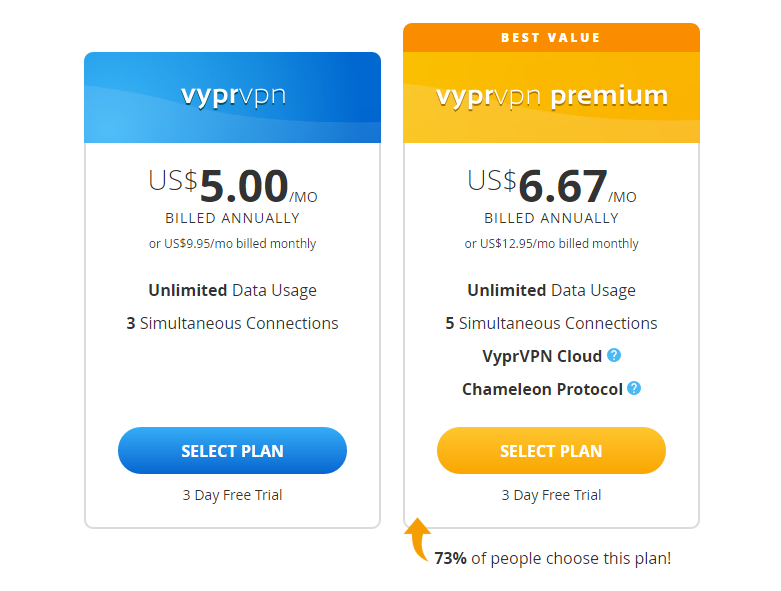 VyprVPN has got also a 3-days free trial which will allow you to decide whether you really want to pay for its best VPN services further. It means you have 3 days to check VyprVPN functioning quality, though earlier they offered a whole week. But 3 days should be enough to find out they're among the easiest vpn to set up, is one of the vpn that works with Netflix (although there are some issues sometimes), is one of the good vpn solutions for small business and possibly the best vpn service for linux. And if you can in 3 days we recommend you get a 1 month subscription. 
As VyprVPN is a developing VPN company, it has adjusted its services for business demands, too, and has a separate business pricing plan, which starts at $299.00 per year for 3 users.
Speaking of the price list itself, we can admit that it belongs to those of the expensive ones. If you are looking for something completely cheap, then this VPN service is not for you. Nevertheless, if you are aimed at the high level of your security, VyprVPN will certainly satisfy your requirements. While this may not be a cheap vpn solution for small business or personal use, it is worth the investment. 
Like any other best VPN companies, VyprVPN accept Credit Cards (Visa, American Express, MasterCard, Discover etc) and uses PayPal as payment methods. However, you won't be able to use Bitcoin, which is so much preferred by other VPN services and it's also not one of the VPN that accept perfect money payment. 
back to menu ↑
VyprVPN Features
We have analyzed VyprVPN features and can summarize that the features possessed by VyprVPN are more than satisfactory.
Realizing the necessity of the high security level, Vypr VPN supplier protects its clients' data and incorporates self managed VPN infrastructure, both hardware and VPN network. It isn't a common phenomenon when a company has a complete management of its own VPN servers (VyprDNS). What does it give you as a client? Well, it enables VyprVPN to provide you with an excellent connection and speed, and all this thanks to the optimized global VPN network. We got high speed vpn for android and PC using this. 
Furthermore, it allows the company to grant to the subscribers like you a top security system. Besides, Vypr VPN provider can offer you such good and useful supplements as VyprDNS, Dump Truck cloud storage, propriety encryption protocol Chameleon and NAT firewall security.
VyprDNS, developed by Golden Frog, supports the privacy level and provides you with a zero-log function due to the fact, that VyprVPN doesn't have to count on ISP based DNS servers. Another service which makes us happy (and we believe you, too) is the cloud storage, offered by VyprVPN which helps to keep your data safe. Moreover, the company has its own 256-bits encryption protocol – Chameleon, which allows you to by-pass even the Chinese firewall.
VyprVPN also has a high level of speed and flexible apps for Mac, Windows, iOS, Android, TV and your router. The server network embraces 5 continents and includes more than 712 servers and 200,000 global IPs (this huge number puts it among the top vpn in the world), what makes the connection always available. At the same time, you have an access to their live chat or email service, in case you need to solve the occurred problems.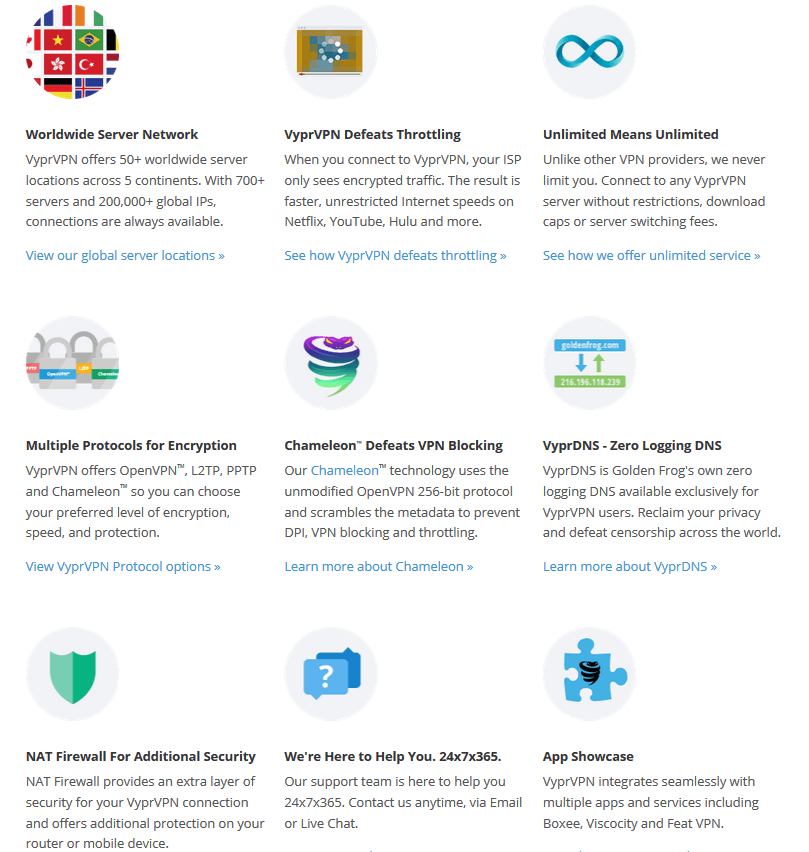 back to menu ↑
VyprVPN Security and Privacy
As to the security level offered by VyprVPN, it's necessary to mention that they worked really hard on it and still are improving their service. It's one of the best and most secure vpn where you can meet not only three standard protocols like PPTP, L2TP/IPsec and OpenVPN, but also their own creation which really impresses with its functions. The talking point is Chameleon technology. This is perfect for those users who are experiencing VPN blocking and speed issues related to bandwidth throttling.
Chameleon is based on the unmodified OpenVPN 256-bit protocol, used for the underlying data encryption. It codifies data, so that it's not recognizable via deep packet inspection (DPI) and simultaneously saves good speed. All this together make it possible to bypass restrictive networks set by ISPs, various corporations and governments in order to get access to the internet sources you are interested in. Chameleon technology, developed by Golden Frog's engineers, is available in the VyprVPN apps for Windows, Mac, Android and your router.
Speaking of the other protocols, they have some differences in their speed qualities and prices. PPTP with 128-bit VPN encryption has a nice speed and won't cause any difficulties in use, as it has a simple setup process. A 256-bit L2TP/IPsec protocol is a good choice if you are eager to boost your security. However, the best protocol to recommend is still OpenVPN because it combines all advantages of the previous two – speed and security, what makes it really reliable.
As we have already mentioned, security is VyprVPN greatest advantage, therefore it isn't strange that it has got another additional security widget – NAT Firewall. It blocks unrequested inbound traffic when you're connected to VyprVPN. Besides, there's no need in any additional configuration or software. Due to the fact that NAT Firewall runs on VyprVPN own servers, it protects all devices connected to VyprVPN.
Except Chameleon and NAT Firewall, Vypr VPN can boast of its own VyprDNS, which operates DNS service available exclusively for VyprVPN users. This developed zero-knowledge VyprDNS service increases privacy level and defeats censorship across the world. This service is built into VyprVPN that is why with any connection you will automatically use VyprDNS. Besides, having this service available, all your data and DNS requests will pass through an encrypted tunnel which protects against "man-in-the-middle" DNS attacks and prevents DNS filtering. In a nutshell, VyprDNS makes your surfing the net completely free and safe.
back to menu ↑
VyprVPN Locations
Security isn't the only thing to have impressed us greatly. Vypr VPN service provider has a tremendous number of servers spread all over the world, which exceeds more than 700. These places include Europe (France, Italy, Belgium, Denmark etc), North America (the US, Canada, Mexico), South America (Argentina, Brazil, Colombia), Central America (Costa Rica, Panama), Asia (Japan, India, Hong Kong etc), Oceania (Australia, New Zealand) and Middle East (Bahrain, Qatar, U.A.E., Saudi Arabia), and in general make 70+ locations with 200,000+ IP addresses to choose from. All servers provide VyprVPN subscribers with stable connections and high speed. VyprVPN also enables you to use unlimited bandwidth (possibly the best unlimited vpn for android) and server switches on every plan.
back to menu ↑
VyprVPN Compatibility
Vypr VPN supplier can be also proud of its compatibility, as it allows using almost any OS platform you like. The list includes Windows (7, 8, Vista, XP), Mac, Linux, iOS, Android, Chromebook, Boxee, Synology and DDWRT. VyprVPN apps are available on Google Play, so you can easily download them. In case you have iOS, then you can do the same visiting Apple store but you can also learn how to download vpn on iphone without app store. And don't worry about setup guides, because they are available on VyprVPN official website and they are some of the easiest vpn to set up. These guidelines will help you to configure Routers and Linux based devices manually (did we mention they're one of if not the best vpn service for Linux).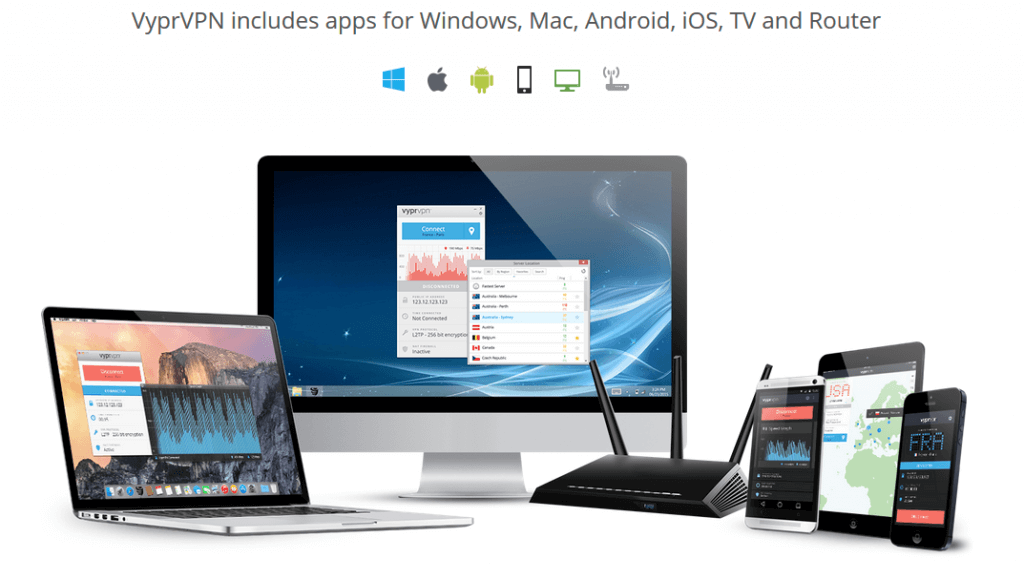 back to menu ↑
VyprVPN Speed and Performance
As to the speed offered by VyprVPN, we can admit that you won't get nervous or annoyed because of throttling. Besides, you have an option of unlimited service switching and there are no bandwidth restrictions or download caps. These characteristics will attract anyone. But while reviewing their services we found a kind of DNS leak what is rather bothering, especially when you expect the service to be just perfect. Moreover, there occurred to be the slight decrease of upload speed. Therefore, if you are going to upload something over the internet, be aware of the fact that it will take your time and, probably, patience, too.
back to menu ↑
VyprVPN Support
We really appreciate VyprVPN live support, as there are many best VPN providers (even from the top 10 best vpn in the world) which do not have it at all, though we believe, it's one of the necessary features required for a successful VPN functioning. Another support types include a ticket system, FAQs and knowledge based section. Speaking of the ticket launching or email service, we can tell that you will receive your answer in about 3-8 hours. However, if you need the solution right now, then use the live chat service which is available 24/7/365 and has a good quality level.
back to menu ↑
The Website
VyprVPn has got a stylish website design which is pleasant not only to look at but also to use. All theme sections are easily noticeable and you don't have to spend much time looking for them. Furthermore, it is full of meaningful information, which is useful for every VyprVPN subscriber. All customers have an option of language choice (8 available) and a career column, in case you want to become a part of their team.
back to menu ↑
Review Summary
To summarize the Vypr VPN review. A high-level security, pretty good speed, deep-laid support system, brand new technologies and a nice variety of servers' locations – you will get all this being VyprVPN subscriber. Although it has some minor drawbacks, like payment, which is somewhat higher than the average VPN services ask for, only 3 days of free trial and Bitcoin absence, it is really an advanced and surely among the top 10 vpn in the world.
Add to compare
Most Powerful VPN
Features galore! Everything you would want in a VPN provider. Multiple protocols including OpenVPN™, L2TP, PPTP and Chameleo. 45+ worldwide server locations and easy-to-use apps for every device.