Buffered VPN Review & Comparison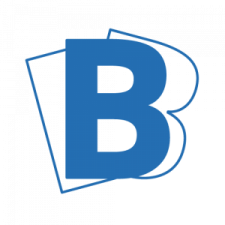 BEST VPN REVIEWS. Compare Buffered VPN Virtual Private Network Provider

About Buffered VPN
VPN is a universal tool that helps to get rid of geo-restrictions and censorship, which cause serious complications in users' virtual life. This service keeps all your online activities secured and private. It also offers a safe access to public Wi-Fi hotspots, easy P2P file-sharing and flawless online streaming.
But does Buffered VPN company correspond to all aforementioned criteria and could it earn a spot among the 10 best vpn service providers? Let's see what it can offer in fact. This Buffered VPN rundown will show you both positive and negative sides of this relatively new VPN service. Let's read the VPN review.
back to menu ↑
Buffered VPN Plans and Pricing

Though Buffered VPN Company can't boast of being an old-timer, its prices can make you believe it is. What do we usually think of a high-priced service? That it's snazzy, with millions of useful options and unique widgets nobody else has. But not always our assumptions are correct.

Buffered VPN has three pricing plans to offer. Its monthly package costs $12.99 and it's really expensive. Even some of the well-known VPN providers (the top 10 best vpn services), which have already gained a strong position on the market, like Nord VPN, are much cheaper.

Its biannual plan lets subscribers save 36% and costs $9.99/mo. But the best option is to choose an annual plan—it will cost you $8.2/mo. So, Buffered pricing policy is clear—the longer subscription you have the lower prices you get.

Payment methods include PayPal and Credit Cards (Visa, MasterCard and Discover). Before you come up to this process you will have to pass through a registration procedure.

Note that this top VPN provider requires email address and it doesn't have such anonymous way of payment as Bitcoin. Of course, it seems to be a trifle but it does affect the anonymity level of this VPN provider and its subscribers. If you wanted to know how to pay for vpn anonymously for Buffered, unfortunately, there's no way to do this. 

Still, the payment process itself, namely card payment, is processed and protected by Braintree, a Validated Level 1 PCI DSS Compliant Service Provider.

By the by, if you become Buffered VPN regular client, be aware of the fact that for the next payments the company will use the same method as you've chosen for the first time. In case you want to change it, you have to inform the company about your decision.

Unfortunately, there is no buffered vpn trial. But it has a 30-day money-back guarantee. It means that you have the whole month for testing this VPN service and deciding whether its functioning can satisfy your needs.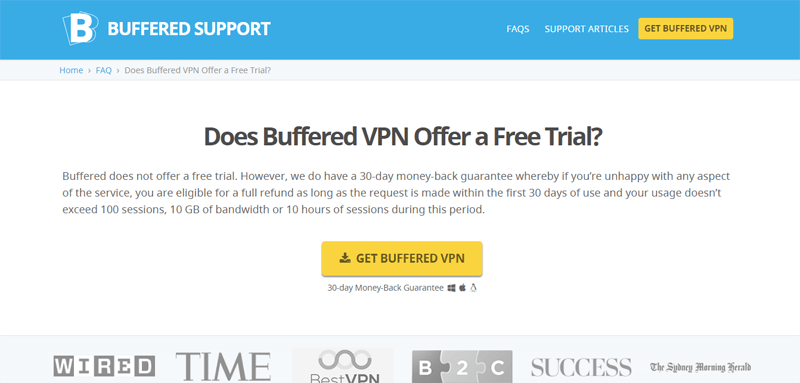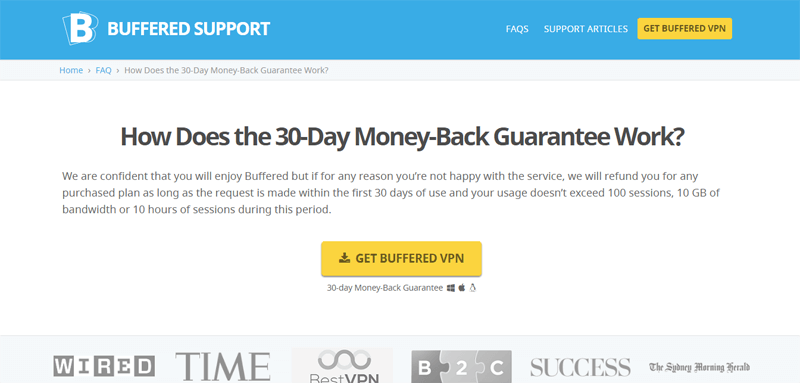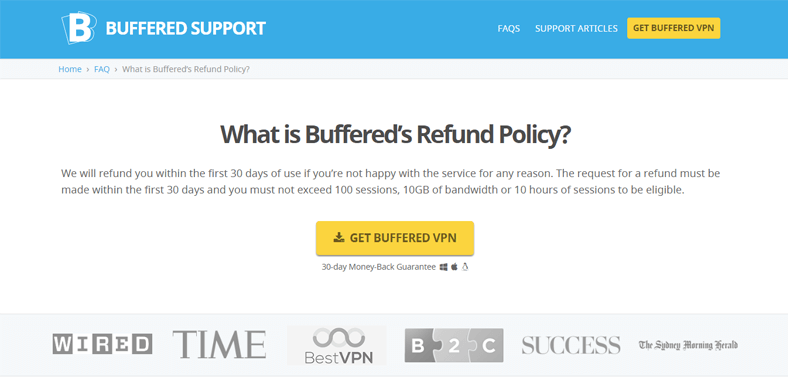 But keep in mind that "if your usage exceeds 100 sessions, 10 GB of bandwidth or 10 hours of sessions during this period, you are not eligible for a refund".
back to menu ↑
Buffered VPN Features
Buffered VPN company is a Hungarian company founded by the team of Hungarian, English and American specialists in 2013. Headquarter of this company is located in Budapest which is a great place for VPN providers.
The point is that Hungary is a country which is far away form the surveillance of such organizations as CSIS (Canadian Security Intelligence Service) or US-based NSA (the National Security Agency).
The main aim of Buffered VPN provider is to provide its customers with a safe access to various Internet sources including geo-restricted websites like Amazon, Netflix (it's one of the best vpn for US Netflix), Pandora, etc. By the way, it is one of the best VPN services for Spotify streaming.
This VPN service also permits users to bypass online censorship. It is especially relevant while staying in such countries as China, Indonesia, Saudi Arabia or others where the censorship policy is very strict.
Buffered VPN doesn't have many servers but its compatibility level is rather high. Moreover, this provider supports several simultaneous connections.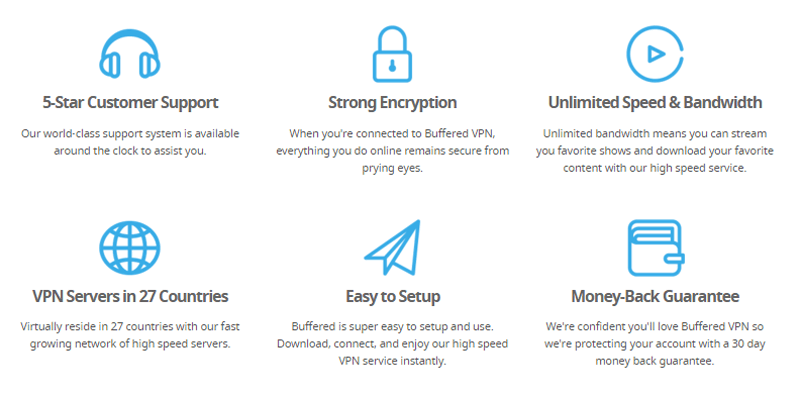 back to menu ↑
Buffered VPN Security & Privacy
As any other VPN company Buffered VPN looks for the ways of boosting its security and privacy level. On their website the company assures you of the appropriate data control.
According to Buffered VPN privacy policy this provider stores your registration and login data. It also keeps information about the amount of data which is transmitted during the connection.
Buffered VPN doesn't save information about users' online activities, but it does keep information about connection duration for 30 days. Subscriber's name and address are kept for a longer period of time because of the taxation laws.
Still, Buffered VPN service provider doesn't pass it to any other third parties except their own data processors. It also doesn't disclose any private electronic communication or any information about the users' activities on the network including emails, chats, VOIP calls, and websites visited etc.
Moreover, Buffered VPN has security measures which protect against the loss, misuse and alteration of the information which is under its control. By the by, you can request the rectification of your personal data in case it is incorrect or even object to its processing.
Nevertheless, you should be aware of the fact that in case of the Hungarian law inquiry, Buffered VPN has to reveal the data, the state bodies are looking for. At the same time you have a right to request information about your personal data kept by the company.
Buffered VPN hides your IP address and location using shared IPs. Is it the best vpn to hide ip? It's surely one of the top 10 best vpn service providers that do this. It has a powerful AES-256 data encryption and thanks to OpenVPN protocol ISPs won't see that you are using a VPN service. Does a vpn protect you from isp? Yes, the fact is that ISPs will think that you are surfing secure websites with HTTPS like Gmail, eBay and others.
Overall, Buffered VPN is a secure and anonymous VPN provider. It is a great option for the UK citizens due to its Hungarian location and privacy policy. It's perfect to watch US netflix in UK. Buffered VPN supplier keeps users' data safe and also secures access to public Wi-Fi hotspots.
back to menu ↑
Buffered VPN Locations
Though Buffered VPN can't offer you a wide range of countries where its servers are located, it has been working hard on this issue. Only for the last months this VPN provider has managed to add 7 new countries to its location list.
For now Buffered VPN has its servers in 33 countries. They involve such parts of the world as Europe (Germany, the UK, Austria, Italy, Poland, France, Ukraine etc), North America (The USA and Canada), Australia, Scandinavia (Norway, Sweden, Finland), West Asia (Israel) and East Asia (Republic of Korea)
Besides, in case you don't find a necessary location, don't worry as there is a solution. All you need to do is to let the company know where you need a server and there are high chances they will get it for you.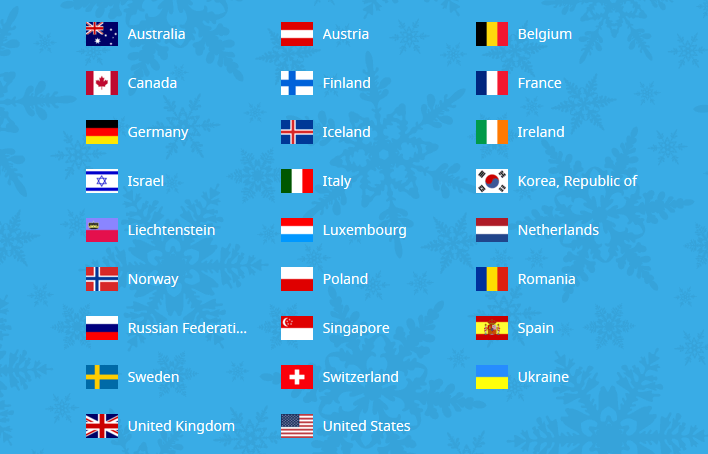 back to menu ↑
Buffered VPN Compatibility
Buffered VPN service is available for different operating systems—Windows, Mac, Linux, iOS and Android. This VPN service also provides its subscribers with setup tutorials for each of the pre-cited platforms, routers (DD-WRT and Tomato-enabled) and Smart TV.
You can also make use of several devices at the same time—there is also an option of 5 simultaneous connections. This is one of the top characteristics of the best and most secure vpn services. 
Buffered VPN Installation and First Look
Only after you have created an account and paid for Buffered VPN service provider, you will be able to download a VPN client. Note that now Buffered has got VPN client v1.0 only for Mac and Windows platforms. Devices with other operating systems are also supported by this provider but require manual setup but don't worry as this is one of the easiest vpn to set up.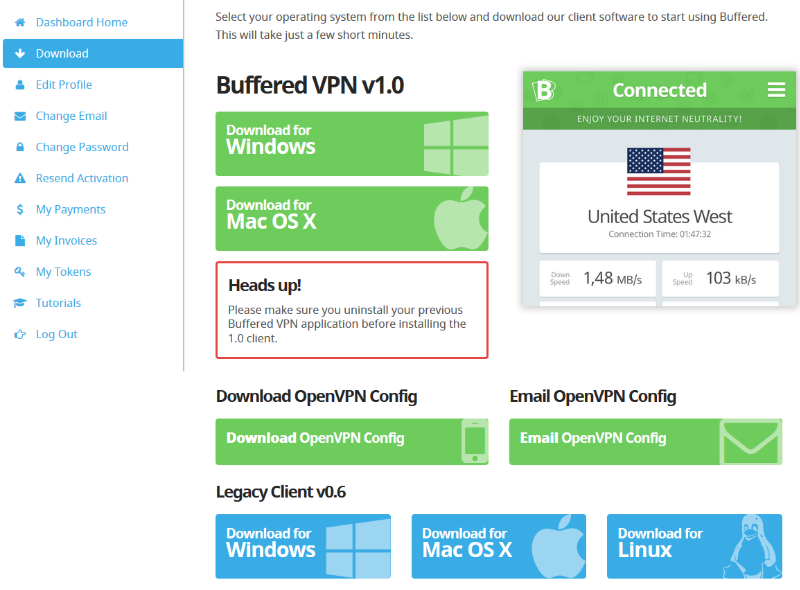 Installation process itself is not difficult and has almost no differences if compared to other VPN providers.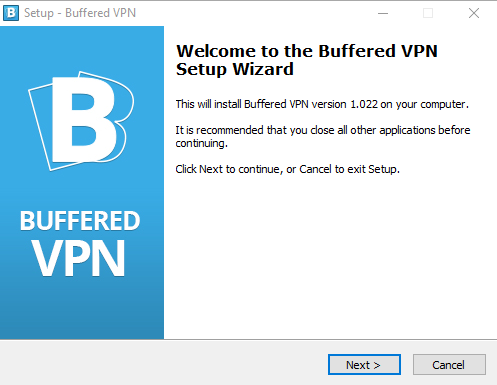 As usual you need to enter you username and password.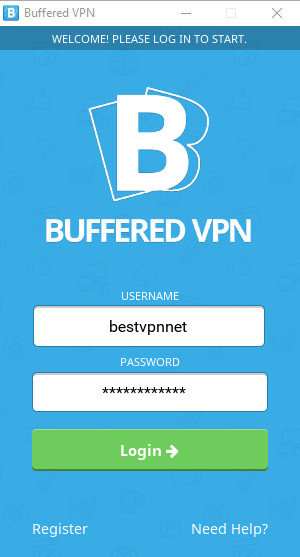 If you pay your attention to the left corner at the bottom of the screen you will see Register button. In fact, its functional side will remain a secret for us. This button leads to the page where you can register and buy a VPN package. But why would a user need it if it's impossible to get Buffered VPN client without registration and paying procedures? It's a kind of VPN puzzle.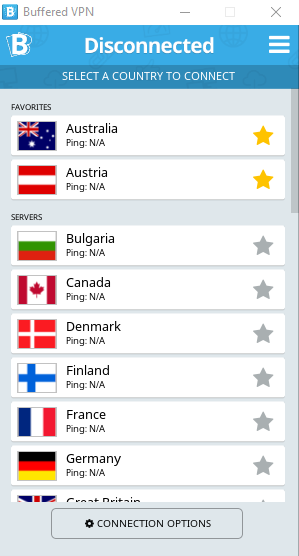 The general look of VPN client is not bad but sometimes it seems to be clumsy. Though, we should remember that this provider is new and this is its first VPN client. So, we hope that soon all Buffered VPN subscribers will be able to enjoy its improved version.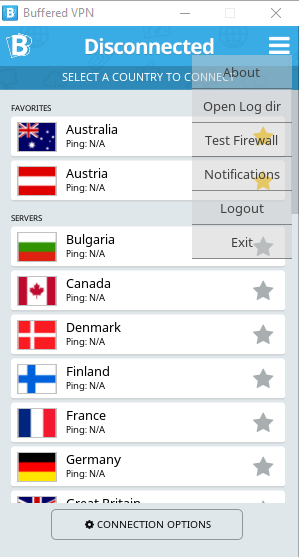 There are several settings you can make use of.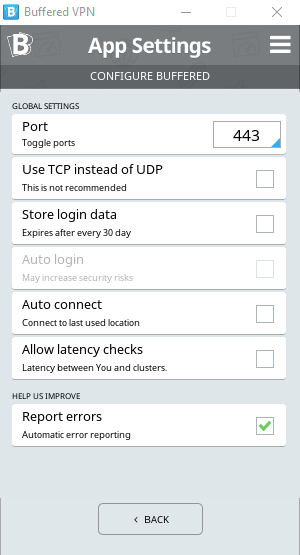 You can select a port and replace UDP with TCP. Of course, it is more reliable but it will slow down your speed sufficiently.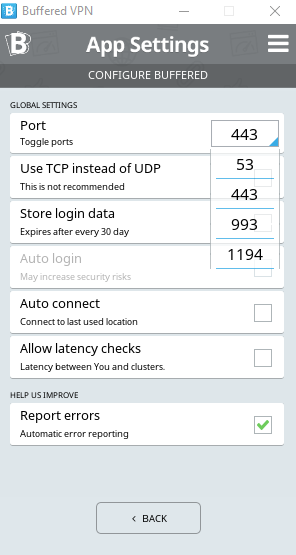 Active Buffered VPN client looks in the following way.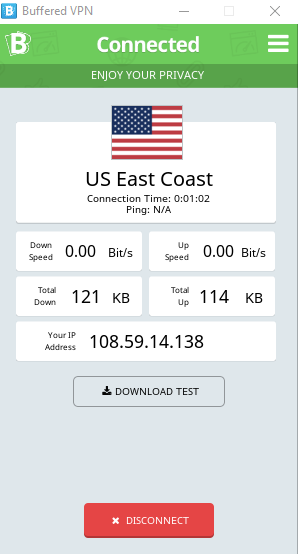 back to menu ↑
Speed and Leak Protection
Although Buffered VPN service doesn't have its own DNS servers, Kill Switch and extra Data Leak Protection, our tests proved that this VPN provider is safe. We didn't find any IP or DNS leaks.


Unfortunately, speed results were not so impressive. According to the Speedtest.net Buffered VPN speed is somewhat slow. Only US servers showed surprisingly high speed results. Note that this is the farthest location we checked. It seems that not all Buffered VPN servers were created equal.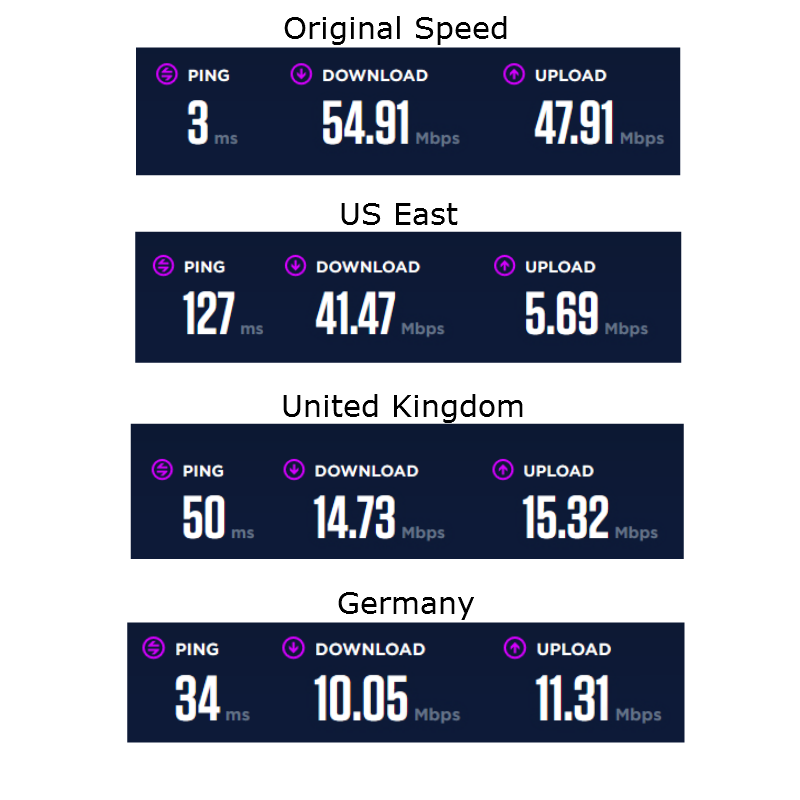 Fast.com has only a slight difference in speed results.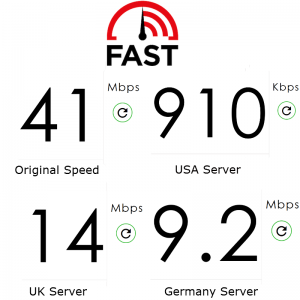 By the by, on Buffered VPN website you can find results of its own download speed test.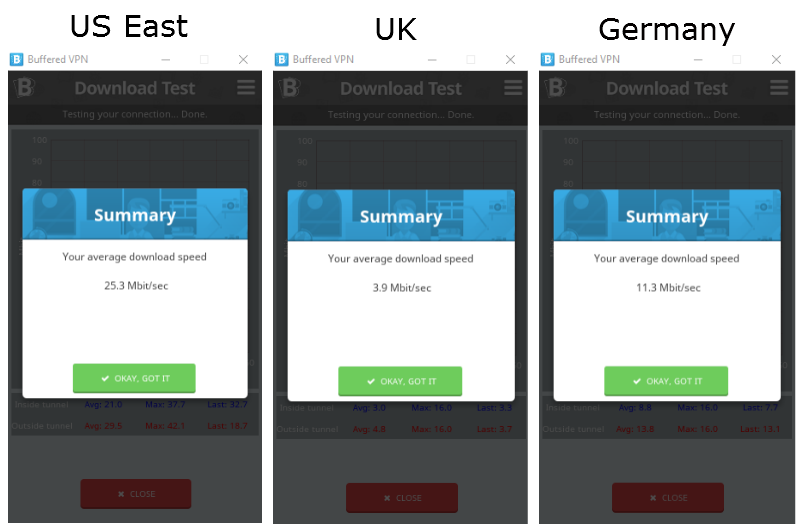 Buffered VPN has unlimited server switching and bandwidth. Still, in order to change a location you need to disconnect form the server, choose a new country and only then connect to it. This switch off-on process is somewhat annoying and time-consuming and not something we usually find in the top vpn in the world.
back to menu ↑
Buffered VPN Support
This VPN provider has a solid Knowledgebase which embraces setup tutorials, articles and FAQ. Buffered VPN has also got its own blog where you can find useful information about best VPN companies and other news of the IT world.
You can find Buffered VPN company in the social networks like Facebook, Twitter and LinkedIn. There is also an option of customer support via email form.
Speaking of Buffered VPN website, its layout is fine. It is not difficult to navigate and there is no chance you can get lost. The site contains all necessary data about this VPN service, its prices and minimum information about Buffered VPN team.
back to menu ↑
Website
The Buffered website planning is good, but it can't be called perfect. It doesn't contain all information which may interest a potential subscriber, what, consequently, can become its first minus. On the other hand, the website structure is easy to use, so you won't get irritated with any complicated schemes. We really appreciate the presentation of their team, as it is always pleasant to know who you are working with and whose product you are buying.
back to menu ↑
Review Summary
To sum up the review – Buffered VPN is a young provider which has both virtues and drawbacks. There is a reliable data encryption, 5 simultaneous connections and good privacy policy. Though, we didn't find any data leaks, it would be also great for this VPN service to have Kill Switch and its own DNS servers.
Unfortunately, prices of Buffered VPN plans are high and don't correspond to its characteristics. Still, you can check this VPN provider yourself and in case something is wrong get your money back within the first 30 days after your subscription to this VPN service.
Pros
Good security level
Non US based
5 simultaneous connections
No data leaks
Cons
No live chat
Pricey
Bitcoin payments are not available
No free trial
Add to compare
Instant Setup. Safety Guaranteed
It organized with high-performance servers, which allows Buffered VPN to provide maximum confidentiality and speed, without any limits! You can successfully use their advanced software.