StrongVPN Review & Comparison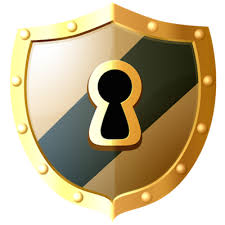 Best VPN Reviews. Compare StrongVPN Virtual Private Network Provider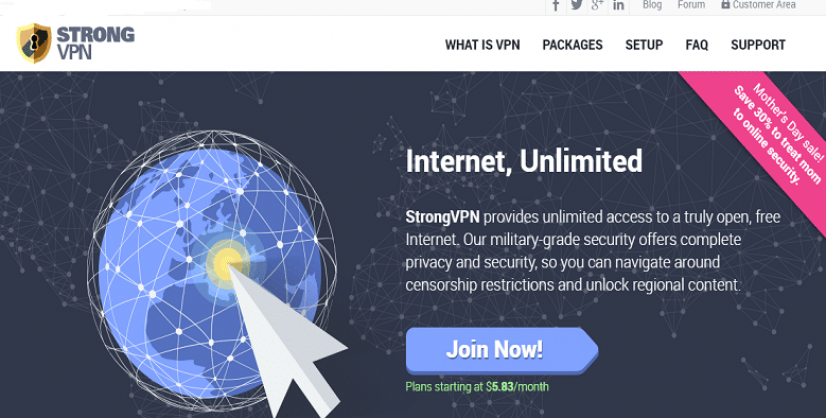 A large US based VPN provider, StrongVPN service is both high-profile, and popular. However, despite having a reasonable privacy policy (at least on paper) we found ourselves very unimpressed with its overall attitude to privacy, and it has a known reputation for being aggressive towards filesharers. A lack of transparency over technical security, combined with reluctance to discuss details  also  left us cold. Were the service a budget offering we would recommend avoiding as we do not consider it fit for purpose, but StrongVPN is also one of the most expensive (by a fair margin) VPN provider that we have ever reviewed. We do hear it's quite good for China however. Let's read the full VPN review.

Pricing and Features
While the most basic package can be had for $7 per month, it really is very basic, and most importantly, is PPTP only. Now PPTP is very insecure, so we are doubtful whether any VPN provider worth its salt should even offer it, let alone make it, as StrongVPN does, their primary product. If all that you want out of VPN is access to geo-restricted content then PPTP is ok, but it can be had for a lot less than StrongVPN service charges (and StrongVPN's own $5 per month DNS Package would do the job better). These days we only consider OpenVPN to be up the job of providing meaningful levels of privacy, so it is StrongVPN's OpenVPN services that we will look at in this review, and as we said, StrongVPN is expensive.
Prices starting at $10 per month and discounted to $5.83 per month for 12 months package.
There are some 'special' plans, but the savings are minimal (e.g. $5 per year for Premium OpenVPN)
Strong VPN service provider offers a 5 day money back guarantee, so you can try out the service before committing to this lengthy period. In addition to being expensive, StrongVPN has the most complex pricing plan structures we have ever seen. The Deluxe and Premium Plans give access to international servers, but other than that the main difference between plans regards how many server switches are allowed (with extra fees for out- of-plan switches).
Given that almost every other VPN provider allows you unlimited server switches (usually to any of its servers), this seems are miserly, especially given the cost of the service. PPTP IP addresses are dynamic, while all OpenVPN ones are static. This is, to be frank, rubbish, and means that uniquely tying a user to activity on the web would be a trivial matter for anyone who can be bothered to do so.
Any VPN provider worth its salt uses shared IP's, making it very difficult to identify any individual user sharing that address with any online activity. StrongVPN supplier offers a DNS package for $5 a month (with 20% discount for VPN users). If all you are after is to access geo-restricted content then this is reasonable deal, and is a much better plan than using PPTP for anything. It is also possible to buy pre-flashed and configured DD-WRT routers direct from Strong VPN company.
These are a great way to get every internet enabled device in your household connected to one VPN connection, although you do pay for the convenience of having it flashed and configured for you. This brings us on to how many devices can be connected at once, and unfortunately (but somewhat unsurprisingly) the answer is just one. One good thing about StrongVPN supplier is that it has a number of mirror sites, and we have heard positive things about its availability from mainland China.
back to menu ↑
The Website and Customer Service
The StrongVPN website looks good, with smart graphics and creative image slider and rollover effects giving it a very professional appearance. It is easy to navigate and find what information is available, and the website makes a good job of explaining VPN and why you want it. Most information is available in English, Chinese, Spanish and Russian, which reinforces the impression of professionalism, and gives a very international flair to the website.  There are Forum and Blog sections, and a FAQ.
The FAQ however is not overly informative, and we had to contact Customer Service over some very basic technical questions. A couple of things worry us about the site. It definitely pushes customers towards its PPTP services, which we believe should be avoided like the plague (except on older devices which only support PPTP), which is a very shoddy attitude for a company supposedly dedicated to providing privacy. Perhaps even worse, was that our Disconnect extension for Firefox reported blocking 99+ tracking objects on the front page alone (mainly from Twitter).
Where StrongVPN scores very well is with its customer support. Live Support seems to be available pretty much around the clock, and its response to our questions was quick. According to the website, staff are available with a wide range of language skills, and we like the fact that customers can post reviews of staff members. However, when we asked some technical questions (regarding encryption levels and dynamic or shared IPs) we had to wait for an expert to be called, who seemed unwilling or unable to answer our questions in full (we got the impression unable).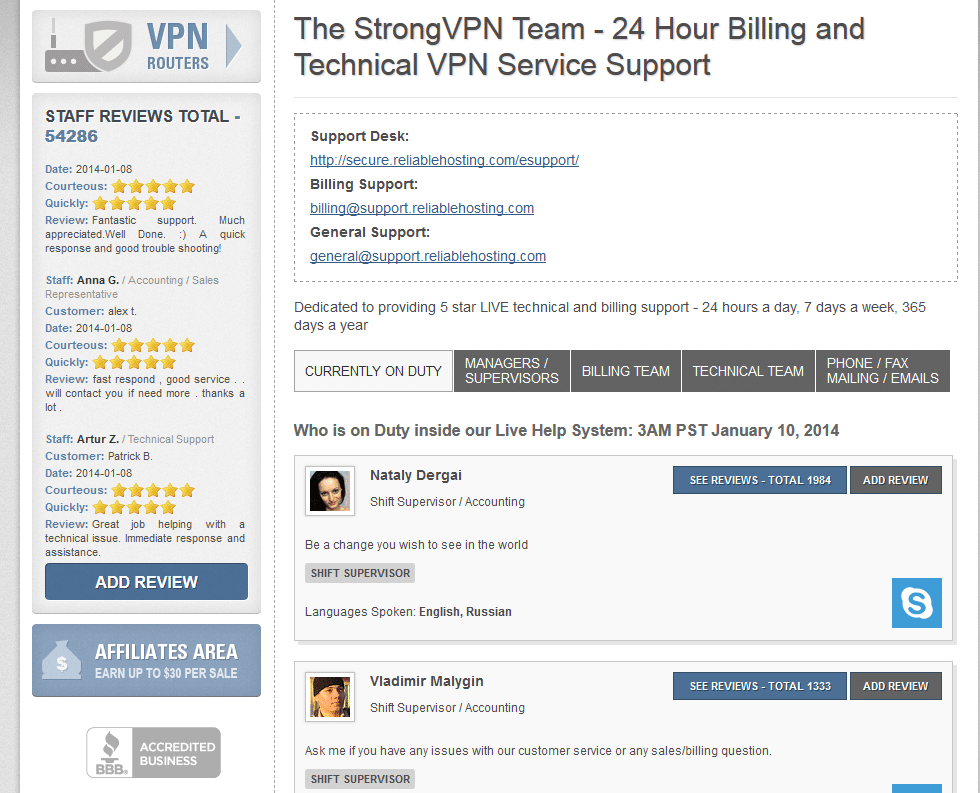 One feature we really do like about customers service is Team Viewer remote setup, where a StrongVPN staff member can remotely log into your computer and install the VPN for you. VPN is not hard to set up (and StrongVPN's setup guides are excellent), but this is a nice touch, and one we have not seen anywhere else. Support is also available via Skype, Email, and Voicemail (US number). Despite our reservations about the quality of the technical support, customer service is obviously a big deal to StrongVPN, and is an area in which it excels as long your questions regard sales or simple setup.
back to menu ↑
Privacy and Security
StrongVPN service supplier has, at least on paper, a robust privacy policy, and says that it keeps no logs, 'During our normal course of duties, we do not monitor, record or store logs for any single customers VPN activity. We do not store web traffic data, including websites visited, files downloaded, etc. We will however record the following data:
Time, date and location VPN connection was made
Duration of the VPN connection
Bandwidth used during the connection
This information is regularly cycled within our servers. This information enables StrongVPN provider to enforce our Terms of Service, spam, crimes using the service, etc. If there is a violation we will use these trace logs to determine which account is in violation. After lengthy analysis of this data, we will terminate the service and/or take further action. ' We prefer to see no logs at all kept, but the fact that StrongVPN does not 'during the normal course of our duties' keep logs of users' internet activity is to be applauded.
However, and somewhat a odds with this statement, is the fact that Strong VPN service provider has a reputation for being very strict on filesharing, and if you are detected engaging in copyright infringement it will warn you once, before disconnecting the service. Presumably it takes action upon receiving a DMCA notice, and since all IPs are dynamic or static it is a trivial to trace an outfacing IP (included on the DMCA notice) to an offender.
As noted earlier, the amount of browser tracking performed does not inspire confidence in StrongVPN's commitment to online privacy. In terms of technical security, the issue is somewhat confusing, as different servers use everything from 128-bit Blowfish encryption to 256-bit AES. I asked for further clarification, but the technician seemed unable to give it. There is no way to choose your own encryption level, or to determine what encryption you are currently using. Quite frankly, this just isn't good enough.
back to menu ↑
Signing Up
The signing up process is straight forward enough, although as you can see below, a great deal of personal information is required.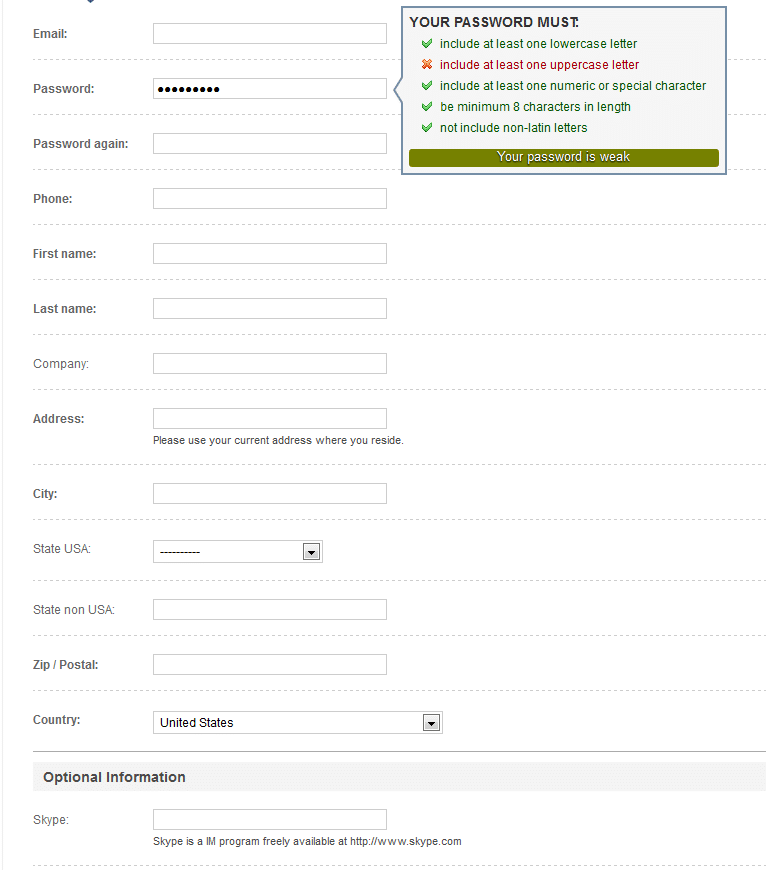 It is possible to pay using Bitcoins, but as detailed personal information is still required, this somewhat undermines the point. It is also possible to pay via credit card, wire transfer, Western Union / check and Stripe. Since there was no reason to pay by Bitcoin, we used PayPal, and soon after confirming a PayPal authorisation request we were sent account details and setup information.
back to menu ↑
The Windows Client
StrongVPN has a dedicated VPN client for Windows and OSX.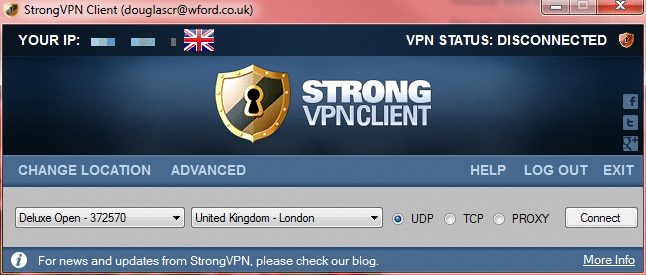 As you can see, it is a very basic affair, mainly letting you change server location.

Unlike any other best VPN services we have ever seen, StrongVPN puts a tight limit on how many times you can switch server. Given the high cost of the service anyway, we think this very tight.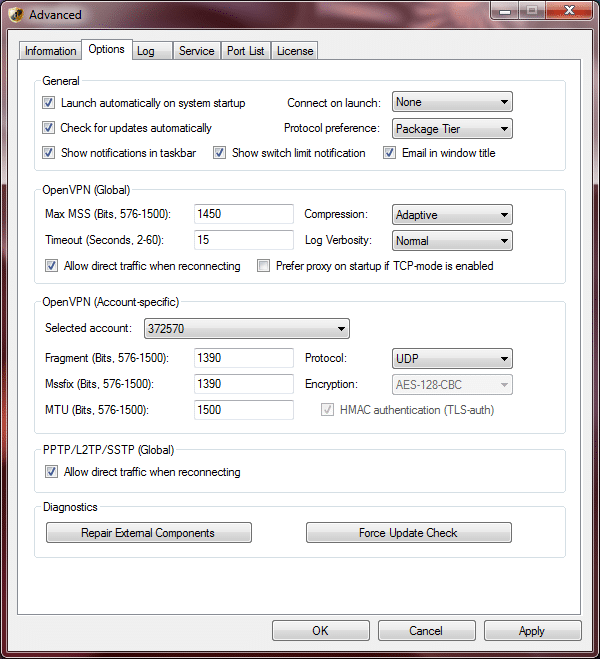 There is an options page accessible from the StrongVPN Taskbar icon, but this deals with very technical configuration issues rather than practical user-configurable stuff (such as an internet kill switch, port forwarding, selectable encryption levels, etc.)
back to menu ↑
Other Platforms
Mac users have either StrongVPN's client, or can take advantage of the licenced copy of Viscocity that is available for free (instructions are also available for Tunnelblick). Setup guides are also provided for Android (OpenVPN for Android) and Linux. iOS is  supported with a guide for setting up using GuizmOVPN, which requires a jailbroken device, but there should be nothing to stop you using OpenVPN Connect for non-jail broken devices, although you are on as regards setting it up. Windows users can also opt to use the generic OpenVPN client instead of StrongVPN's software.
back to menu ↑
Speedtest Results
We tested StrongVPN's performance using our 20 GB UK broadband connection (all using default UDP OpenVPN).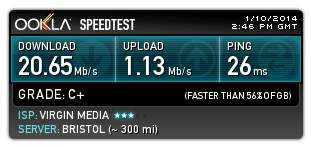 Without VPN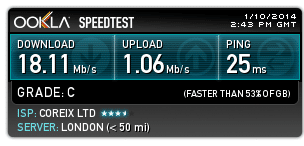 With VPN, closest UK server
As you can see, speeds are generally good. The Netherlands result was bit disappointing, and when we tested on a number of different European servers we found a similar range of results. This inconsistency is not awful, but it does leave a fair bit of room for improvement.
back to menu ↑
VPN Review Summary
Pros
Well-presented website
Excellent customer service options
No usage logs (although we have doubts about this)
Performance results ok to good
Pre-configured routers available (but expensive)
7 day money back guarantee
Reportedly good for access from China
Technical 'expert' was either cagey or didn't know what he was talking about
Client works well enough, but is very basic
Cons
Pretty expensive
Static IP addresses make a mockery of privacy
Harsh attitude to copyright infringement
Limited number of server switches
Poor attitude to privacy (huge number of tracking objects, encourages use of insecure PPTP protocol)
Poor iOS support
Lots of personal information required on signup
Lack of transparency over encryption standards used
Minimum 3 months signup period
US based (usually a big minus for us, but given all the other issues is hardly worth mentioning)
To summarize the review – the fairly high prices started us off on a bad foot with StrongVPN, but we could have been won around if it offered an exceptional service for the money. It doesn't. StrongVPN is all surface – its website looks slick and customer support is excellent, as long as you don't ask awkward questions. When the techs are reluctant / unable to discuss their security arrangements then alarm bells start to ring.
The privacy policy sounds remarkably good, but everything else about StrongVPN's attitude to privacy gives us little confidence in it. Performance is generally fine, but can vary somewhat. Given that there are lots of top VPN providers available who offer much better services for a fraction of what StrongVPN charges, we can only attribute its popularity good PR.
Add to compare
Strongest, Fastest. Best Tech Support
Key features: 24x7 technical support, up to 2048 bit encryption, automatic setup application for Windows, Mac, iOS, Android. Zero logs. No bandwidth charges or speed limits.