Why Choose IPVanish VPN Provider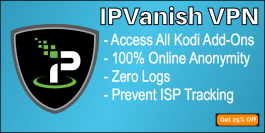 Benefits of choosing IPVanish VPN service provider
*Read our FULL review about one of the best VPN services on the market: IPVanish VPN >>
When it comes to creating a safe and secure network for your company, strength is always an asset and that is the association that IPVanish VPN provider wants in best VPN services. IPVanish does have the advantages of an established reputation, United States-based management. They seem strong and supportive from a distance…but what are the facts? Let's consider eleven points of interest and determine how, and if, IPVanish provides what you are looking for in a VPN provider.
Price
One of the reasons IPVanish VPN company is providing a quality service is also that they provide a first Tier service. The company offers 3 different plans to choose from: monthly, quarterly and yearly. One month will cost you $10, 3 months $26.99 and one year $77.99. It is obvious that when buying for longer period, then you will save on the plans.
back to menu ↑
Countries
The VPN service is U.S. based. The plans encompass major gateway cities in America, including Miami, Los Angeles, Chicago, Dallas, as well as the United Kingdom's, London and Manchester sites. Anyway, the wide server selection(more than 90) from 41 countries gives you a big pool of servers to choose from.
back to menu ↑
Protocols
All IPVanish VPN servers support OpenVPN (both TCP and UDP), L2TP, and PPTP VPN protocols. This option for the many servers around the world will ensure you with the fastest connection speeds.
back to menu ↑
Customer Support
The US-based VPN company claims that it has excellent customer support service, since it offers live support 24 hours a day, seven days a week and 365 days a year. This is indeed a major commitment to customer satisfaction. Most customers agree that the operators do assist with technical problems and do so in a timely manner. Customer support offers assistance in English.
back to menu ↑
Money Back Guarantee
In terms of guarantees, a customer gets seven days if they want a money back promise. Beyond this time frame there is no refund is provided. This is perhaps an area of concern for someone who may be interested in a long-term trial— but there just isn't one.
*Read our FULL review about one of the best VPN providers on the market: IPVanish VPN >>
back to menu ↑
Traffic
IPVanish VPN provider can boast about strength, as their VPN server is considered the fastest in the world. One positive of IPVanish's that they provide 1-tier service assuring a fast speed connection. This means there is no bandwidth limitation and you get gigs of connection speed!
back to menu ↑
Speed
IPVanish VPN company is always happy to point out that they have the fastest VPN server worldwide (and that's saying a lot!), and indeed this means a huge difference in daily operations for your business. No wonder they tout "strength" as their best asset and as a part of their company name and brand. Since you have no limits, nor any restrictions on applications (like P2P traffic) this makes the company one of the most competitive in the industry.
back to menu ↑
Supported Devices
IPVanish VPN service actually supports multiple VPN technologies; as stated, they handle everything from PPTP to L2TP/IPSec, SSTP and OpenVPN. It is fully compatible with popular devices such as the iPod, iPhone, iPad, Android and Symbian from Nokia. Other devices supported by this VPN include Tomato Router, DDWRT Router and Windows Mobile. It also supports applications like Netflix via computer, and network devices like DVD players or media players.
back to menu ↑
Supported OS
IPVanish VPN supports traditional operating systems like Linux (both Fedora and Ubuntu), Mac OS and Windows, including Windows 7 and Windows Vista. This makes the provider a highly compatible system that can be commonly used with most other applications and hardware.
back to menu ↑
Free Trial
IPVanish VPN supplier does not currently offer a trial, though it does have a week-long money back guarantee. New customers may find themselves overwhelmed and perhaps dissatisfied at the lack of free trial.
back to menu ↑
Conclusion
Payment methods accepted include personal check, American Express, Visa MasterCard and Paypal. Some customers may find the service very lucrative and reliable. Besides these quibbles, most companies will find that IPVanish VPN company does offer excellent deals, effective performance, and unusually low prices to its VPN clients.
*Read our FULL review about one of the best VPNs on the market: IPVanish VPN >>