Why Choose HideMyAss VPN Provider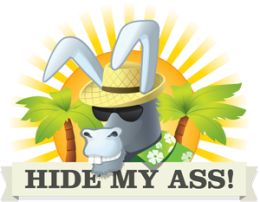 Benefits of choosing Hide My Ass VPN service provider
*Read our FULL review about one of the best VPN providers on the market: Hide My Ass VPN >>
HideMyAss VPN provider was established in 2005 and is based in UK. It actually stated as a small company offering a various anonymous services as proxy, anonymous emailing, etc, and eventually began offering best VPN services. The company states that its growth was not merely an issue of price strategy but one of adopting superior customer service — and it's a mission they hold to this day. All in all, the core team has been working together for almost 8 years.
Price
One important matter in customer service is that of price and it happens to be one of the company's strong suits. Hidemyass offers 3 packages and you can save when you buy for longer period. The price starts at $11.52 month. For 6 months it will be $49.99 whit a saving of 27% and for one year it will cost 78.66 saving 43%. The company prides itself on honest communication when it comes to cost. They offer low prices, no hidden fees and more personal contact with clients.
back to menu ↑
Countries
Hidemyass is an UK-based company. The company has over 363 servers in 53 countries and allows you to choose from more than 42.500 IP's addresses. The servers are spread around the world and include a big selection of countries like: US, UK, Romania, Netherlands, Germany, Ukraine and many more.
back to menu ↑
Protocols
Hidemyass VPN supplier offers three main types of plans as mentioned above in the pricing section. All the plans gives you access to all servers and you can use encrypt the traffic using PPTP, OpenVPN and L2TP. PPTP can work with DD-WRT and can work on more mobile devices. However, open VPN supports better encryption and a "no dropping of packets" feature. Open-style also offers access to a higher number of servers. In addition, L2TP/IPSec and SSTP, IPSec and SSL are also provided.
back to menu ↑
Customer Support
What is Hidemyass's game plan when it comes to pushing customer service? They are offering something few other providers are willing to give: all-the-time committed customer service. The VPN company offers customer support via email, live chat, phone support and remote desktop. They offer these services all the time, as in 365 days a year, 12 hours a day, and seven days a week.
*Read our FULL review about one of the best VPN providers on the market: Hide My Ass VPN >>
back to menu ↑
Money Back Guarantee
The money back guarantee may be advantage considering that 30 days is the period when you can apply for a money back in case you are not satisfied with the service provided. Beyond 30 days there is no refund, and long-term trials are simply not available.
back to menu ↑
Traffic
There is no limitation on the traffic when it comes to Hidemyass's terms. The company offers 99% uptime and no limits on your usage.
back to menu ↑
Speed
The Hidemyass VPN company is well known for its speed—in fact, it's regarded as the fastest VPN server in the world! The company has many servers all across North America and Europe and this helps to keep the connection speed fast and stable. Connection speeds measure in gigs of processing power.
back to menu ↑
Supported Devices
Network features are compatible on a number of devices beyond the PC, including Apple products like iPod, iPhone, iPad, as well as Android and the Nokia Symbian. Additionally, Windows Mobile, Tomato Router and DDWRT Router and even hardware (DVD players and media players) also work on the system. Yes, you can watch Netflix securely!
back to menu ↑
Supported OS
Operating systems supported by Hidemyass include Linux, Mac OS X, Windows, Windows 7 and Windows Vista.
back to menu ↑
Free Trial
The VPN company does not offer a free trial or demo. However, the company does offer a 30-days money back guarantee. Why no free trial? The VPN company says that in case you are not satisfied whit the service then you can apply for a refund within 30 days from the purchase date. Nevertheless, the service is self-explanatory and it works just as it says it does. If the user believes the investment is in error, he or she can cancel the service within 30 days.
back to menu ↑
Conclusion
One item that makes Hidemyass VPN service unique is that it offers 256-bit encryption, meaning users get full anonymity on the many servers of the company. This will ensure you anonymous surfing and network usage even if you use DSL, wireless or cable providers. You can also be confident that all of your personal information, including your IP address, will be protected.
Other advantages include shared IP hosting, as well as dedicated and total IP hosting—a great feature that not every company is going to offer its clients. While some customers may find the long-term commitment (without much in the way of refunds) frustrating, most users agree that Hidemyass VPN supplier is one of the most competitive and best companies in VPN market today.
*Read our FULL review about one of the best VPN providers on the market: Hide My Ass VPN >>