Private Internet Access VPN Review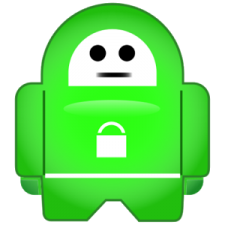 BEST VPN REVIEWS. Compare PIA Virtual Private Network Provider

About Private Internet Access VPN
Life circumstances make you look for the best VPN provider but you don't know which one to choose? Our review will give you a short report on one of the prospective and the best VPN companies which may become a worthy option. The service we are going to talk about is Private Internet Access VPN, which can offer you a reliable privacy and security system, and a salable pricing plan. Not bad? Then read further to find more interesting features of this pretty cheap VPN provider. Let's read the full review.
back to menu ↑
PIA VPN Plans and Pricing
Private Internet Access VPN is known for its reasonable, and even cheap prices. It gives a chance to protect your data even if you expect to cover minimal expenses. This service includes three packages with similar features but different subscribtion period, and, obviously, price list. The options offered are the following: a month, half a year and year packages. As all companies do, Private Internet Access VPN supplier rewards its patrons with good prices reductions.
For instance, if you are going to become Private Internet Access client for a month only, get ready to pay $ 6.95. Have you decided to become a half-year subscriber? Then get 14% off and pay $5.99 per month. Stability is one of your life mottos and you choose a whole year subscription? In that case you will pay just half a price, i.e. you get 52% off, paying only $3.33 monthly. Pretty cheap, right?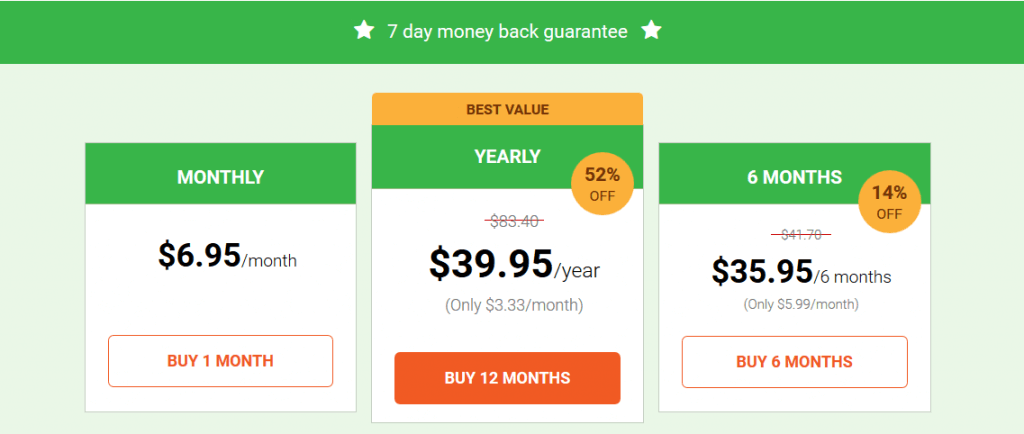 As we see in the review, the prices are available for almost everyone. What is more, Private Internet Access VPN provides its clients with a seven-day money-back guarantee. This gives you an amazing chance to test VPN and make sure that everything functions properly. The services included are secure VPN account, encrypted Wi-Fi, P2P and VoIP Support, PPTP, OpenVPN and L2TP/IPSec, 5 devices simultaneously, multiple VPN gateways, unlimited bandwidth and no traffic logs. You will get access to more than 3200 servers in 24 countries all over the world.
Moreover, Private Internet Access VPN provider accepts all popular payment methods, both Credit Cards (MasterCard, Visa, Discover, JCB etc) and web payments (PayPal, Amazon OKPay, Ripple, Bitcoin etc). Besides, you can pay for Private Internet Access by trading in the full remaining balance on any gift card. It gives you instant access, 100% anonymity, and you need no credit cards.
back to menu ↑
PIA VPN Features
The main server of Private Internet Access VPN company is located in the US and is a subsidiary of London Trust Media Inc. The other servers are spread in more than 20 countries including the US, Europe and Australia. In general Private Internet Access possesses more than 3200 servers. This number is definitely enough for the average person, who often travels abroad. Besides, the company offers up to 5 simultaneous connections. The security question won't bother you at all as this best VPN service provides its customers with a nice encryption level. The encrypted VPN tunnels create several layers of privacy and security, what helps you stay anonymous and safe while surfing the net.

As to the support offered by this best VPN service, we can assume that it's decent. It means that you will be heard. Every customer can use either live chat, or an email service. However, in order to get access to live chat you will be required to enter your name and email address. What we can say for sure is that you will get a professional help, though it may take some time to wait.
The beginners are offered a kind of a "cookbook", where they will find a step-by-step setup guide including those with non-standard VPN, DD-WRT and Tomato routers configurations. In total there are more than 130 articles on various topics which may interest an average user. The Private Internet Access customers are also offered ticket support which allows them to upload their files in order to support the query.
Nevertheless, like in the live chat, the clients will be required to give their full name and email address. To cut a long story short, Private Internet Access VPN supplier shows a nice support level, though it has some features to be improved.
The number of devices and operating platforms this service is compatible on includes those of the most popular (Windows, Mac, iOS, Android, Linux, Boxee Box etc). Besides, every platform is provided with the protection system needed for the normal functioning.
Private Internet Access has got also some features which are rarely offered by VPN services. This list includes the internet Kill Switch, with the help of which you can stop your internet connection when the VPN disconnects. This option protects you from undesired access to your data basis. The next widgets are port forwarding with the redirecting functions, DNS leak protection and IPv6 leak protection.
back to menu ↑
PIA VPN Security and Privacy
Almost all best VPN companies try to make their subscribers feel safe while using their services. Private Internet Access provider is not an exception. It has a range of security services to protect its customers' personal data using Open VPN, L2TP/IPSec and PPTP. Of course, the best choice is Open VPN, as it has already proved to be the most reliable. This protocol offers AES-256 for data stream encryption, SHA256 for data authentication and RSA-4096 for handshaking. However, it's up to a client to choose the type of encryption which is suitable namely for him/her. All the detailed information you may find on the Private Internet Access official website:
Besides, it isn't a secret that every serious VPN provider leads the zero-log policy and Private Internet Access belongs to them, too. This company doesn't collect or log any traffic. In fact, it has a very clear privacy policy, what is great, because you know how your data is being used and protected. Speaking of the protection, it must be mentioned, that PIA offers also the internet Kill Switch (it protects you from various hackers attacks), DNS and IPv6 Leak Protection. There is also port forwarding (it provides you with the redirection of communication to a specific gateway), but if you want to keep the high security level, we advise you to switch it off.
back to menu ↑
PIA VPN Locations
To be honest, we were not impressed with the number of countries involved by Private Internet Access, because there are VPN companies with much better results. Nonetheless, its servers are spread in 24 countries of the world: the UK, the US, Netherlands, Hong Kong, Ireland, Switzerland, Mexico, Turkey, Brazil and many others.
The general quantity of active servers being used is 3268. Although these figures are not so much impressive, Private Internet Access enriches this list with new geographical spots, what consequently influences positively its security level. Why? The more servers there are the more protection the users get.

back to menu ↑
PIA VPN Compatibility
If locations characteristics are not of the highest level, compatibility shows completely different results. Private Internet Access is available for users with various device and operation system preferences, because it functions rather well with Windows, Mac, iOS, Android, Linux and other platforms, including Boxee Box devices.
As to the Android users, they are offered a native OpenVPN-capable app with OpenSSL. Such combination promises the security type of the best quality you can wherever find nowadays. The subscribers who prefer Windows will get the built-in internet kill switch and a range of options to specify type and level of encryption.
PIA VPN supplier also guarantees you certain freedom, because you can have 5 simultaneous connections, what will make you protected even more.

back to menu ↑
PIA VPN Speed
The general outcomes we have got after the speed test are rather satisfactory. The average rate index is about 25-30 Mbps. This difference depends on the distance between the user's location and the spot of the server he/she is connecting to. The time required for this operation was OK and this didn't make us nervous. DNS and IP tests were also successful due to the built-in DNS leak protection.
back to menu ↑
PIA VPN Support
The support service didn't disappoint us, too. We are pleased with live chat, ticketing and email services, though each of them has certain peculiarities. For instance, for live chat and ticket support you will have to introduce your personal data in the form of your full name and email. The quality of support we've got is really high and deserves only positive responses. Probably you will get the answer not in a second, but in a minute, and it will be of high grade.
Furthermore, PIA offers a well-planned knowledge base as a part of the client support. It includes various articles on tech issues, setup guides and configurations for different platforms. FAQ option is also available. The data included there contain information about PIA VPN itself, the main features, private policy, security system and pricing plans.
In a nutshell, Private Internet Access company is ready to answer your questions and support you 24/7/365.
back to menu ↑
Private Internet Access Pros and Cons
To sum up the VPN review, PIA belongs to the group of best VPN providers which have both their strong and weak sides. As to its drawbacks, you won't be impressed with the number of servers, their locations and term of the free trial. However, you will be satisfied with the security and privacy features, speed and support quality. If we were asked whether to say "Yes" or "No" to this VPN provider, we'd rather choose the first option.
Add to compare
True Anonymity
Private Internet Access (PIA VPN) prides itself in true online anonymity. They keep no access logs and accept bitcoin which makes this VPN the best option for those looking to stay 100% anonymous.