Cameras & Photos. Security & Safety. Best Deals & User Reviews: Reolink 4MP PoE Home Security Camera System 8 Channel 2TB Hard Drive with 4 Outdoor Surveillance 2560×1440 Cameras Night Vision RLK8-410B4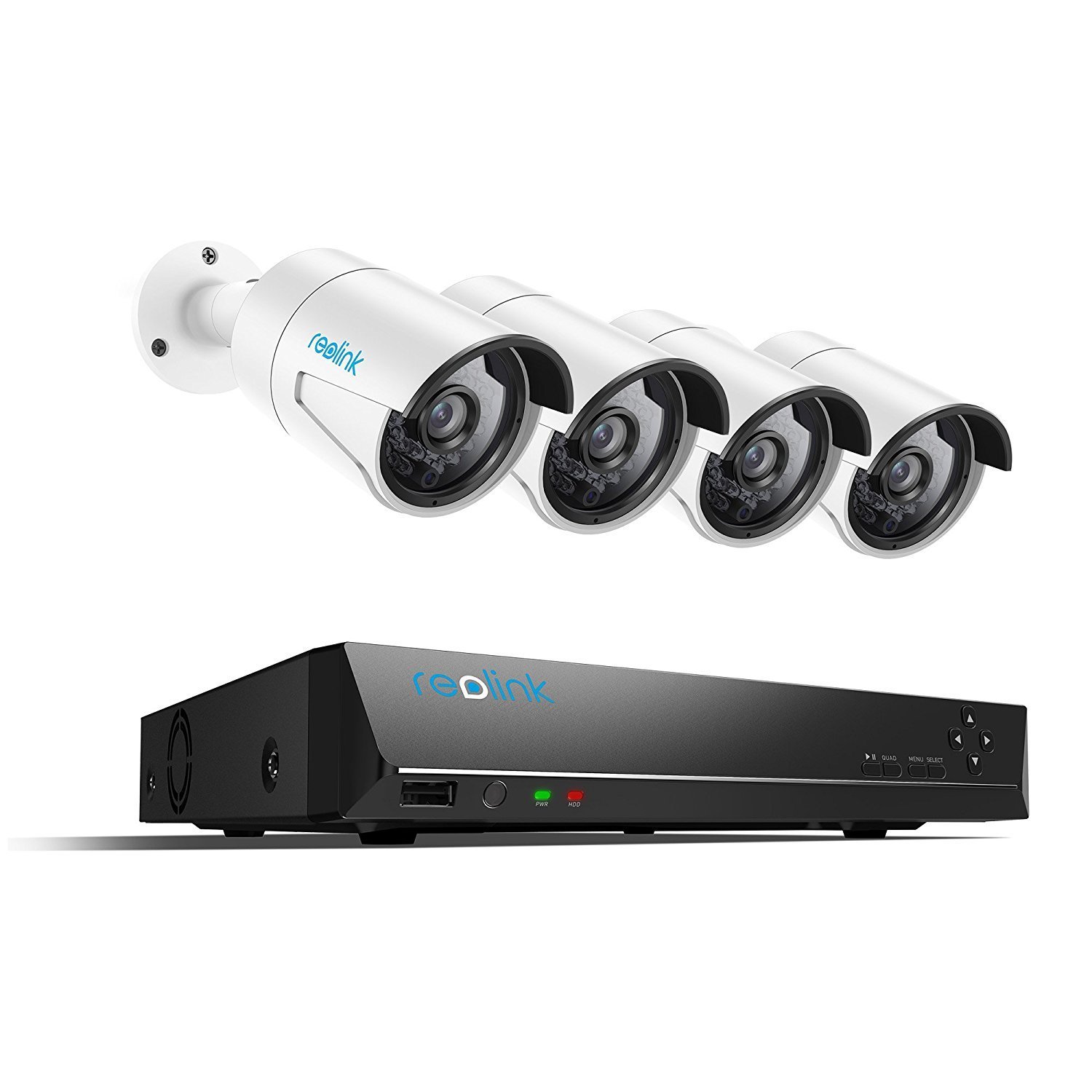 Buy This Item

amazon.com
Description
Enter your model number to make sure this fits.; 1440p Super HD Surveillance Camera System: Supports 1440p/1080p/720p video live view & recording day & night.; Built-in 2TB HDD: 8 channels simultaneously recording & playback. Secure your home & business indoors & outdoors 24/7. Motion triggered recording supported.; DIY Security System: Easy PoE connection, plug & play. No expert installation required.; Remote Access via Smartphone/Computer: Live view anywhere. Receive instant mobile phone & email alerts when motion is detected.; Competent Customer Server: 30-day money back guarantee & 2-year limited warranty.
User reviews
It was very easy to setup and deploy. Hardest part was dropping the Cat6 through the wall (you, of course, don't have to do this, but I like my installations tidy). Went through the startup of the NVR without a hitch and the cameras came on line without any hesitation, and the picture is great.A couple notes -- Update the firmware for the NVR as soon as you get it. It should be the first thing you do.- Update the firmware for the cameras immediately after you update the NVR firmware, preferably before installation (just in case 🙂 )- Remember NOT to send the ethernet to the cameras from the NVR through a router. That will not work. POE needs a direct path.- You'll need minor networking skills if you need to access the NVR from the outside world - i.e. directly accessing the system. This will require port forwarding of your router (assuming you have some firewall in place)- Using the UID system (rather than port forwarding) requires the NVR to be able to talk with Amazon's servers. This is where my concern is. There is nothing from Reolink regarding the security of the data. Since all of my cameras are external, I'm marginally troubled by this. If I had indoor cameras, I couldn't fathom using the UID system. I have no confidence that my data is secure or who gets to see it.- To that end, I've tried using my private VPN to my internal network from the outside (routed so that the requests to the NVR come from a local IP rather than VPN IP), and the app does not like it. To that end, the app doesn't really like anything other than UID access. I'm hoping this will be fixed so I can layer my own security the way I want it and not have my data out of my control.Overall,Installation - 5 stars - way too easySetup - 5 stars - very easy even if you modestly technicalPicture - 5 stars - pretty awesomeNight picture - 4.5 stars - mostly my issue with latent light around and minor blockage of IR LEDs - still pretty goodEase of use - 4.5 stars - again, modestly technical people will find it easy to navigate and useCybersecurity - 3 stars - this one is the hard one if you have inside cameras...who gets to see what you've got on the cameras?Good value, I think - at least for me.
There is no actual power on/off so you have to just unplug it. Sparks flew as soon as NVR got plugged in which did not give me much confidence. The software is not easy to use. I had this and an older lorex 1080p side by side and when there is movement indoors the pixelation on reolink is very noticeable, whereas the 1080p lorex produced much better quality with no pixelation. Outside in bright light the reolink was only slightly better. At night the reolink is brighter but pixelated as well. On top of all this one of the cameras was malfunctionig. Another cam wire was dirty so not sure if it was recycled. The fan is noticeably loud. Having to put in a password via the mouse is anoying. For a 4mp system i was expecting much better pixture quality.
I'll start with the positives. When I received the product it was well packaged and very hefty. Its always a plus to feel some weight in your electronics. Once I unpackaged it, all the components seemed well built and sturdy. Thats about it for the positives. One of the first things I noticed was a giant sticker on top of the NVR warning you not to hook up the VGA/HDMI ports before powering on the NVR and also ensuring you disconnected the ports after powering down. Very strange and it led me to believe the circuitry design was flawed. As I hooked up power there was a rather sizeable white spark when plugging in the DC connector. After hooking it up there was no video out via HDMI. I don't have a VGA cable or monitor with a VGA port so I could not test that. So there was no local interface which meant I had to hook it up to my network to get inside the NVR to control it. Once I hooked it up to the router the LAN port on the NVR was dead. I was able to add it to my network but I had to use one of the ports for the cameras to get it to work. This defeats the purpose of having a dedicated LAN port. I contacted reolink support and they told me the spark when connecting power was normal (again poor design) and offered some obvious troubleshooting tips. Then they asked that I take a video of what I was doing and upload it to a dropbox account. This all seemed extremely strange to me and more trouble than it was worth. Also a huge problem with the support is that its based in China and they only work during business hours. No 24/7 support. So all support happened via email and it would take a whole day to get a response.I get that in the world of electronics sometimes youre gonna get a dud, but when I am dropping 550.00 on a piece of equipment I expect it to work as advertised and if it doesn't to have access to immediate customer support. Oh and when I did get it working the camera video was pretty poor quality. I was expecting a lot better picture out of a 1440p system.